Apr 14, 2015
Project: Exterior Black Out Window Film
Location: Las Colinas, TX
Client: Circle Industries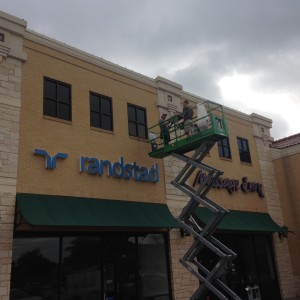 We were recently contacted by Circle Industries in Las Colinas, TX. They were looking for a window film company to install new black out window film to help conceal some unsightly materials.
The picture above shows you Circle Industries new black out window film. As you can tell, there is no view in, likewise there is no view out. The reason Circle Industries went with a black out film was due to the fact they wanted to completely hide the interior of the upstairs windows. It still provides a look similar to very dark glass.
Circle Industries is a Las Colinas company that monitors and maintains equipment for businesses and homeowners. Their main services include security, fire detection, surveillance, mass notification, and access control systems. They offer 24/7 customer support and services so you can feel relaxed knowing your systems are always fully functional.
As with any window film project, we begin with obtaining measurements for the space and defining the details of the project. Once everything is agreed upon we fabricate the window film to the specifications desired. Installation is the final step, we have to be extremely precise and careful when installing any film, the smallest mistake can ruin the entire look and functionality.
Black out window film is beneficial for concealing the view in/out of a window. This can be convenient for anyone looking to stop people from seeing inside a space, it could also be used to stop the view from anyone inside. Other window films can provide glare reduction, heat reflection and UV protection while still providing a view if that is what you are looking for. This specific black out film comes with a 7 year warranty.
If you are searching for black out window film or any other solar films, trust in the experts at Architectural Glass Solutions. Visit our website or give us a call at (972) 625 – 6008 to learn more about our residential and commercial window films. We look forward to talking to you!
Written By: Architectural Glass Solutions – Little Elm, TX