Apr 28, 2016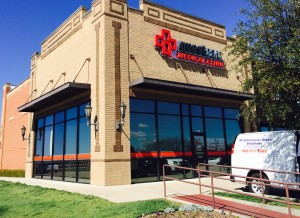 Are you looking for a solar window tint for your commercial property? If you want to see an example of quality work just take a look at what we have done for Quest Care company in McKinney, Texas. They were looking for a particular window tinting solution that would help alleviate heat from within their building caused by large windows at their commercial structure. They needed a tint film that could remove exposure possibility of most UV rays. In the end we were able to get them something that would create a more comfortable environment for their clients and employees and also reduce energy costs from air-conditioning and inconsistent temperatures.
Just from looking at the photo above you can see that the large windows could present a problem for insulation and heat exposure. UV rays from the sun are able to penetrate those windows as well. We used a specialty solar film called 20% F20. It was the most applicable solution for this particular situation.
The solar film for windows that we used reduces heat and UV significantly as it is dual reflective and 100% metallized. The reflective any on the inside is very low so you still can see perfect views outside even though a protective privacy layer exists on the exterior so other people can't is easily see inside. Window tint and film like this provides many benefits for both homeowners and business owners.
We have used this window film on many of Quest Care's locations at this point in our relationship with them. Their spaces have had issues with direct heat and glare. Hi natural lighting is still preserved even though 70% of the heat and around 80% of the glare has been eliminated. It really is a great window film and tinting product. Though the main features of this particular solar film our energy cost reduction and comfort improvements, privacy features are kind of an added bonus.
If you have been searching for professional custom tinted window film installation like solar window film or tinted windows for residential and commercial use, please give us a call to discuss your needs.
-Written by Architectural Glass Solutions